may well be the best yet written on the theology of Thomas…" "… nobody has done it better than he has."
John Dominic Crossan, author of The Historical Jesus and The Birth of Christianity
"The most original, challenging, and persuasive book about the Gospel of Thomas that I have ever seen."
Morton Smith, author of Jesus the Magician and The Secret Gospel
"The Gospel of Thomas and Christian Wisdom… first raised my interest in this debated writing."
Risto Uro, author of Thomas: Seeking the Historical Context of the Gospel of Thomas
Discovered in Egypt in 1945 as part of the Nag Hammadi Library, the Gospel of Thomas was long considered irrelevant to the study of Jesus' teachings. Stevan Davies' influential The Gospel of Thomas and Christian Wisdom overturned this view, and enabled the Gospel of Thomas to be taken seriously as a source for the earliest Christianity. This Bardic Press edition brings a classic work of accessible scholarshp back into print. A entirely new forty page introduction discusses recent developments in scholarship, looks at Thomas' independence from the New Testament gospels, discusses the role of Mary Magdalene in the Gospel of Thomas, and offers a variety of valuable insights. A fascinating additional essay speculates that Thomas may have been used as an oracle text in a similar way to the I Ching.
Though few translations have had as much impact as Edward Fitzgerald's Rubáiyát of Omar Khayyám, anyone who wishes to truly appreciate Omar Khayyám needs to read more than one translation. This volume contains Edward Fitzgerald's classic translation with all its variations, Justin McCarthy's elegant and mystical literal translation and Richard Le Gallienne's sharp and poetic version. For the first time the reader can appreciate the range of Omar Khayyám and his interpreters in a single volume.
Give me a flagon of red wine, a book of verses, a loaf of bread, and a little idleness. If with such store I might sit by thy dear side in some lonely place, I should deem myself happier than a king in his kingdom.
A book, a woman, and a flask of wine:
The three make heaven for me; it may be thine
Is some sour place of singing cold and bare—
But then, I never said thy heaven was mine.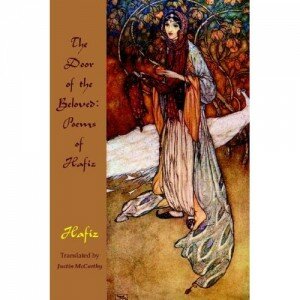 The great fourteenth-century Persian poet Hafiz is noted for his mystical love poems. The poetry of Hafiz has reached new heights of popularity in the West, yet his poems have been translated into European languages for over two hundred years. Hafiz is not a poet to be captured in a single translation. This modernised edition of McCarthy's elegant prose translation gives us a direct Hafiz, full of clear imagery and personal poetry.